This ultimate men's hair how-to answers the most frequently asked questions we get. There is something for every hair type, from fine to thick and straight to curly. We've got you covered for how to blow dry, straighten, curl, cut, grow out, style, thicken, dye, bleach, braid and many many more. Check it out.
1. How To Grow Hair Faster
Hair grows in three stages. The anagen phase, a period of active growth, lasts from two to eight years. Hair stops growing during the catagen phase, which lasts four to six weeks, and hair falls out during the telogen phase. The telogen phase can account for the loss of over a hundred hairs a day.
Minoxidil, otherwise known as Rogaine, increases blood flow to the scalp and appears to decrease the shedding telogen phase and prolonging the anagen growth phase.
That's not the same as growing hair faster though.
Diet supplements that promise to improve hair, skin and nails are very popular right now. However, there is no proof that they work. Because hair is not essential to bodily functioning, it is likely last to benefit from vitamins supplementation.
However, a healthy diet and lifestyle can make the most of your genetic ability to grow hair. Foods rich in biotin are essential. Also called vitamin B7, it was once called vitamin H for Haar und Haut, German for hair and skin.
Vitamins A, C, D, and E, plus biotin and minerals like iron and zinc, help keep hair healthy during the growth phase. A diet rich in vegetables and meat will meet your vitamin needs.
So all in all, while there is no way to grow hair faster but a healthy diet and lifestyle will ensure that you look and feel your best.
2. How To Cut Your Own Hair
Men, do not cut your own hair. Unless it's a one length all over buzz cut, it's just not going to look that good. Don't experiment on yourself!
There are excellent barbers and stylists out there at every price point. If you don't have the time or money to maintain a hairstyle with cuts every 6-8 weeks, let your barber know and they will give you a look that grows out well.
There are plenty of videos and tutorials showing you how to cut hair with scissors or clippers but barbers have training and experience that can't be conveyed in a few minutes of video. To look your best, go to a hair professional.
As for letting someone else cut your hair, see the above. Pros make it look easy because they are pros. Dunking looks easy on TV too but that doesn't mean you can do it. Even if you can dunk, don't cut your own hair.
3. How To Grow Long
 

Hair For Men

Growing hair out for men takes a little bit more than just time and patience. Some hair care and the right hair keeps you looking your best throughout the process.

Hair grows about half an inch a month for a total of six inches a year. What that means is longer hair is older hair. Short hair can take damage from styling, hair color and the sun because it is fresh new growth. Long hair needs to be protected from styling damage with serums or oils applied to damp hair.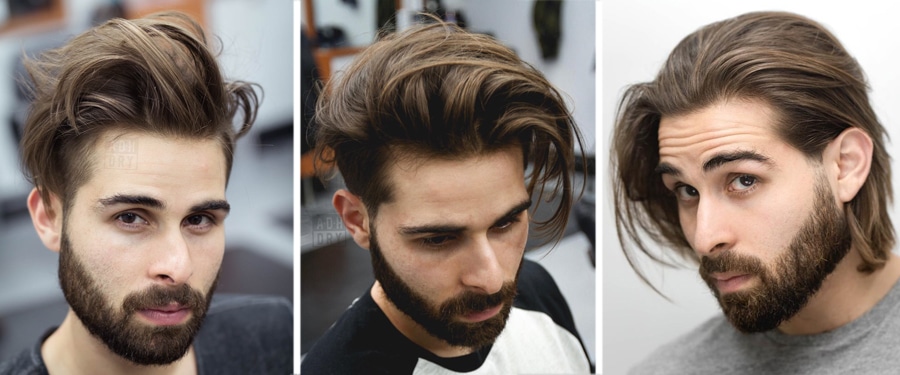 15 months of growing hair long with haircuts by Andrew Does Hair
Moisture is also essential to keeping hair looking great and frizz-free. Shampoo as little as possible to hang on to the scalps natural oils. Brushing hair regularly distributes those oils from the roots to tips. Add additional moisture to hair by using a conditioner every time you shower, whether or not you shampoo.
In addition to hair care, talk to your barber or stylist about growing hair out. They will give you a cut that grows out well to minimize any awkward phases. Whether you are starting with short or medium length hair, these steps will keep you looking sharp.
4. How To Style Long Hair For Men
For chin length and longer hair, wearing hair down is a great look that needs a bit of attention to look it's best. A few products can enhance any look. Here's how to style men's long hair.
With air-dried hair that is parted in the middle, take a leave-in conditioner or drop or two of a hair oil and scrunch it through the ends for some conditioning and frizz fighting.
Longer hair weighs down the roots so you want to add some volume. Grab a dry shampoo or texturizing spray and blast the roots from about a foot away to create some lift.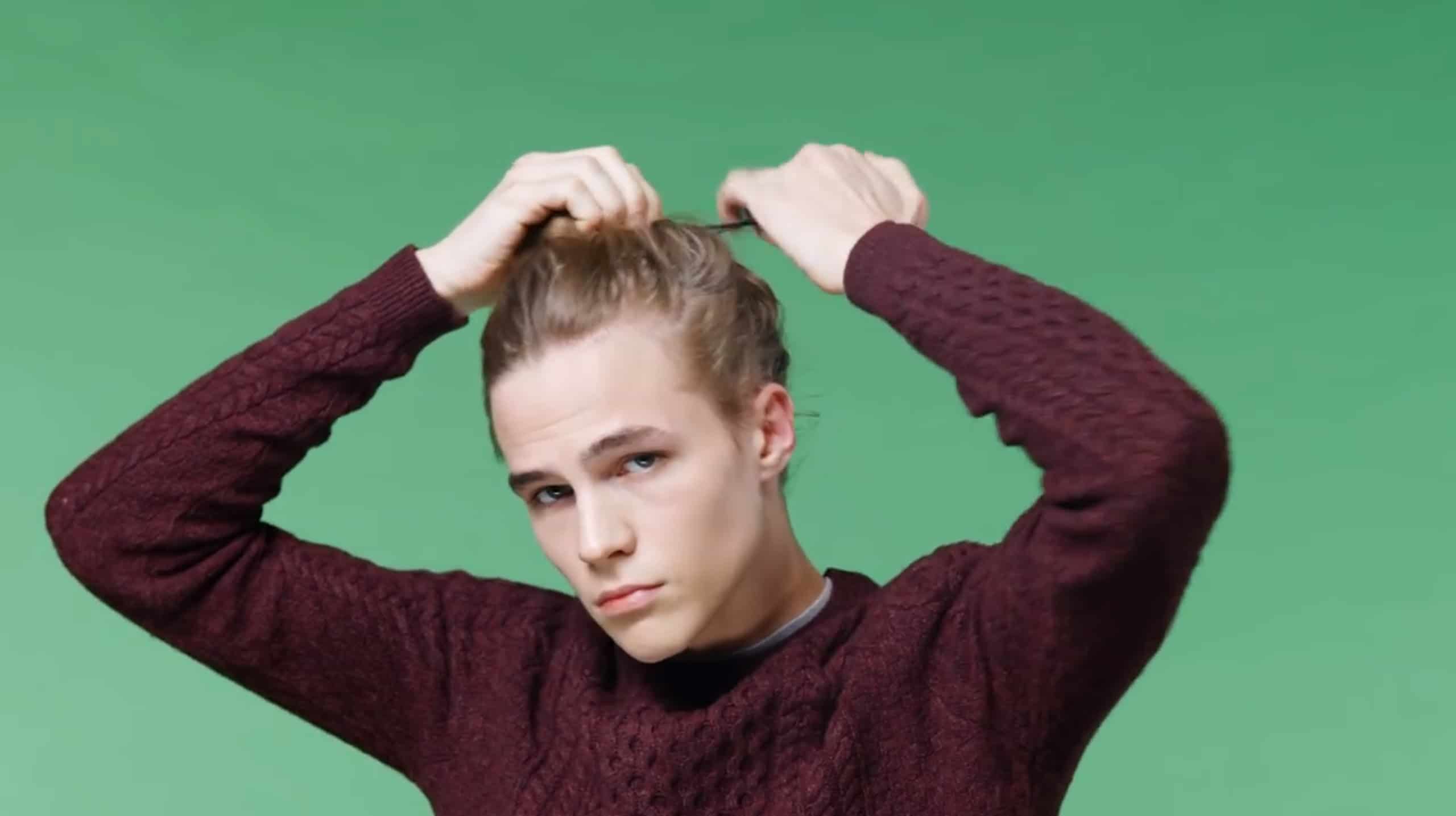 This is enough for a cool hair down look or start for a man bun. If you want to pull hair up, gather hair in the hands and begin to pull it up. For shorter hair, the bun will be lower depending on how long hair is at the back of the neck. Longer hair can be tied up in a higher bun. You can leave the center part visible or comb hair back with your fingers.
Then put on a hair tie and leave a loop of hair to create a bun. This style looks good when tendrils of hair fall loose around the face and neck or you can use a pomade to create a smooth finish.
Here are some more cool men's hairstyles for long hair.
5. How To Style Curly Hair For Men
Curly hair is easy to style when you start with a flattering haircut. The best men's haircuts for curly hair create a flattering shape and remove weight to enhance texture.
Curly hair tends to be dry because the oils from the scalp can't travel down the hair shaft. That means skipping shampoo as much as possible and using a conditioner and possible even an oil after the shower.
To style curl hair, start with a product like a cream that can easily be applied to textured hair. Work the product through damp hair and scrunch with fingers to bring out curl while setting product in. Once it all looks good, just let hair air dry in the shape to maintain the curl.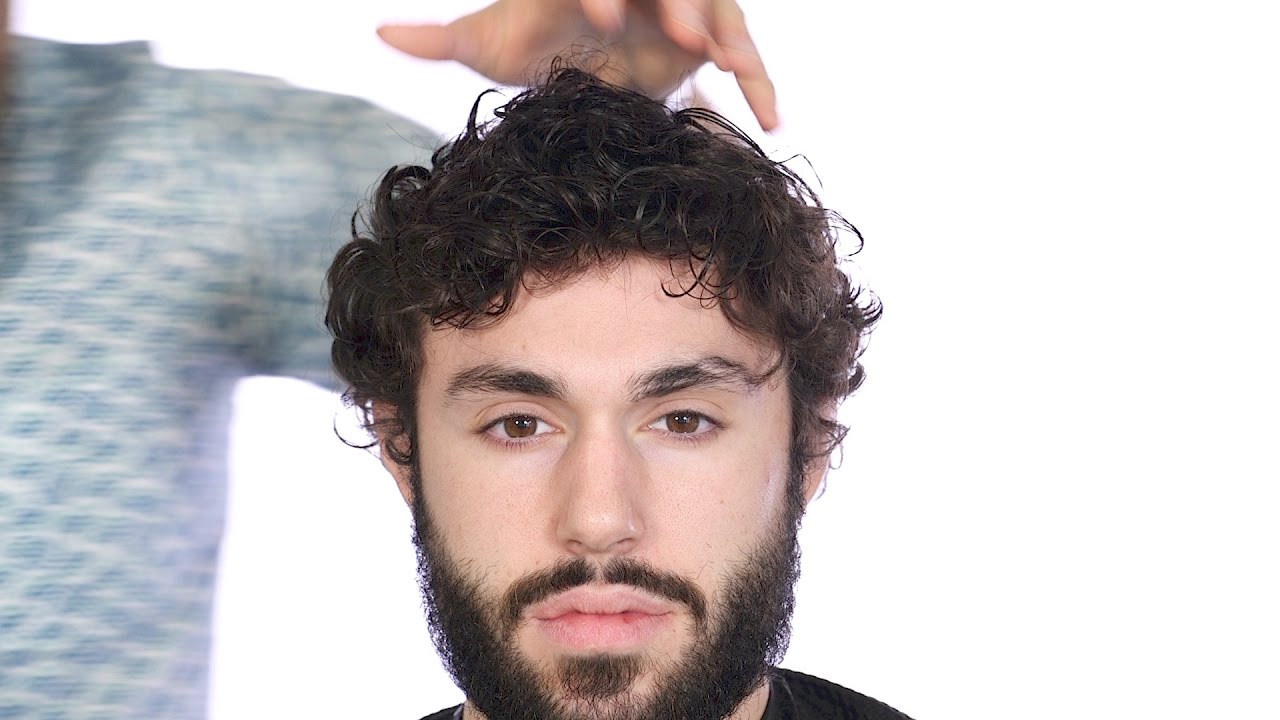 Another product enhance curl is salt spray. You can let it air dry or blow dry on low with a diffuser. Look for a salt spray with added moisture like Winsome & Wisdom Shore of Yourself Sea Salt Spray to keep hair from drying out. Use on it's own or with a touch of pomade on top.
6. How To Straighten Men's Hair
Sometimes guys with wavy or curly hair want to go straight. The easiest way to get the look is to use a strong hold pomade on damp hair and comb it into a pompadour or side part hairstyle.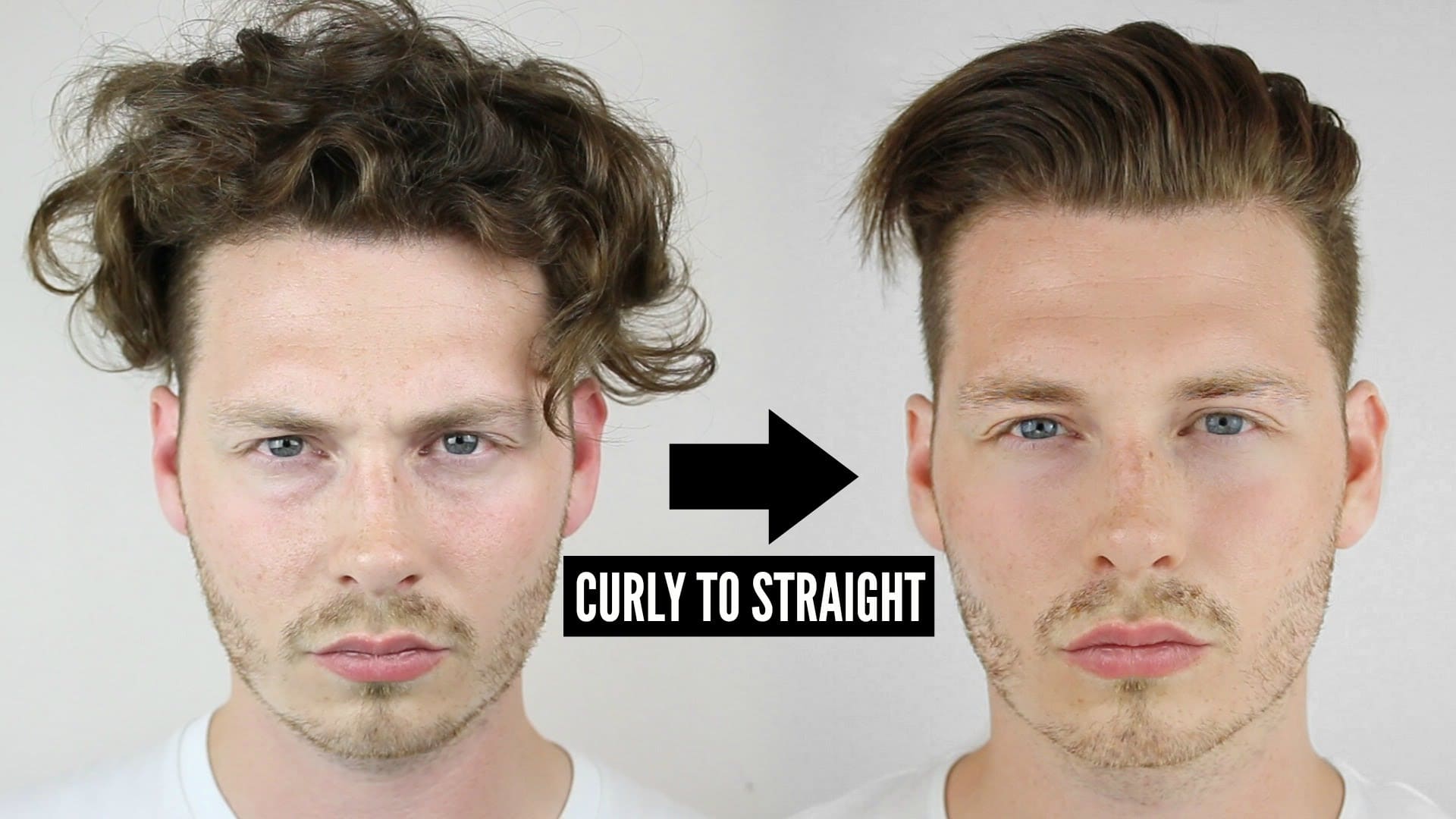 For more hairstyle options, you can blow dry and/or flat iron hair. Always start with a heat protection spray to prevent styling damage. Coat hair and begin blow drying while pulling hair straight with a round or flat brush. Keep going in sections until hair is dry.
Most men will be able to get straight hair without a straightener but extra thick or curly hair types may also need to use a flat iron but blow drying alone should be adequate for most people.
Finish with a hair product to maintain the look all day.
7. How To Get Curly Hair For Black Men
Here's how to transform kinky frizzy hair into defined curls. There are a number of ways to get curly hair for black men but this is the fastest and easiest one that only uses one product.
A tip before you get started, always condition hair with a curly specific product like SheaMoisture Coconut & Hibiscus Curl & Shine Conditioner in the shower or Cantu Coconut Curling Cream as a leave-in conditioner. When you're out of the shower, dry hair with an old t-shirt instead of a towel. The tighter weave is gentler on hair and prevents frizz. There's no need to buy a microfiber hair towel. Comb hair out and you're ready to start.
Then grab a healthy amount of Eco Styler Olive Oil Styling Gel or a similar alcohol-free product that tames frizz. Work it through hair with fingers in a circular motion like this. Once the gel is absorbed, grab some more and keep going. After a minute or two of this, curls will already start to be defined. Keep going until all hair is formed into similar curls. How long this takes will depend on your hair type and length.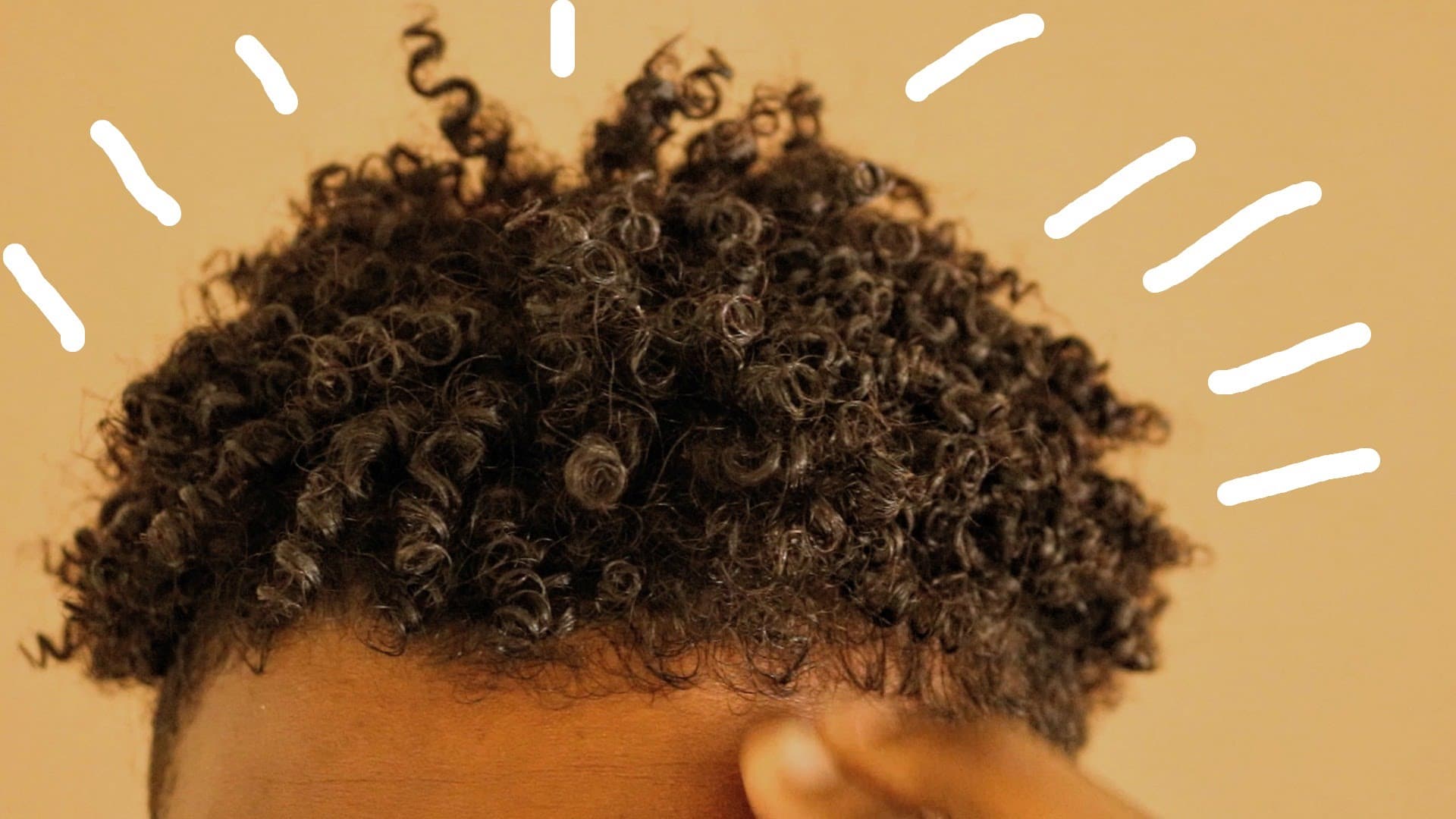 If you want, you can finish with a spray like Jane Carter Solution Quench that defines curls and locks in moisture but it's not required.
8. How To Get Thicker Hair For Men
Fine and thin hair types can appear fuller and thicker with the right products and styling tools. Fine hair means each individual strand of hair is thin. Fine hair can be thick, with lots of hairs per scalp are or thin, with less density. Both types look thicker.
Thickeners
Hair thickening shampoos, conditioners and sprays contain polymers that can make hair up to 20% thicker. Use one or all of these products every day because they wash out. There are even more thickening products available for women so don't by afraid to cross the aisle in the store.
Texture
Haircuts and products that enhance texture create separation and definition to make hair look thicker than it is. The textured crop is a huge trend right now as is adding textured styling to any cut, from short to medium length.
One way to add texture is with pomades like clays, putties and creams that creates textured separation. This works for short to medium length hair.
Another way to add texture to hair is with a salt spray. This is a very easy to use product. Just spray it into damp hair and scrunch. Then you can air dry or blow dry to add natural looking waves to hair. You can even transform straight hair into curly using salt spray. This will work best with hair of about 2″ and longer.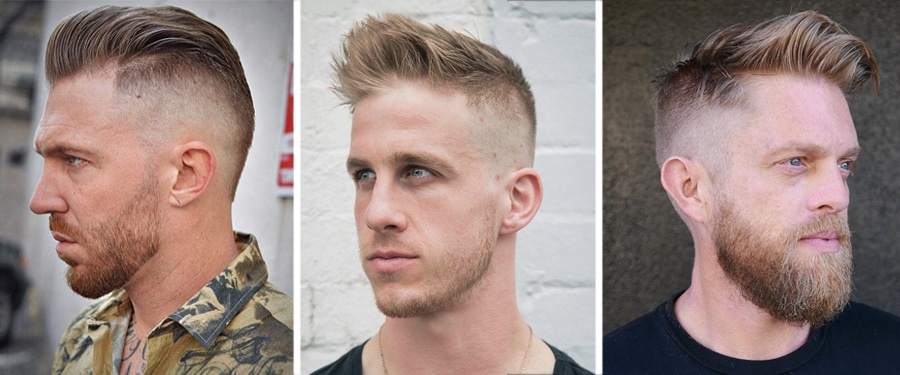 Brian at Squire Barbershop – Tom Chapman – Corey Powell
Volume
The number one way to make hair thicker is by adding volume. Some of the best products for fine and thin hair boost volume. These are mousses, styling powders and dry shampoos.
Combined with a blow dryer and brush, you can create high volume looks that last all day like pomps, sweep backs and spikes.
9. How To Style Medium Length Hair for Men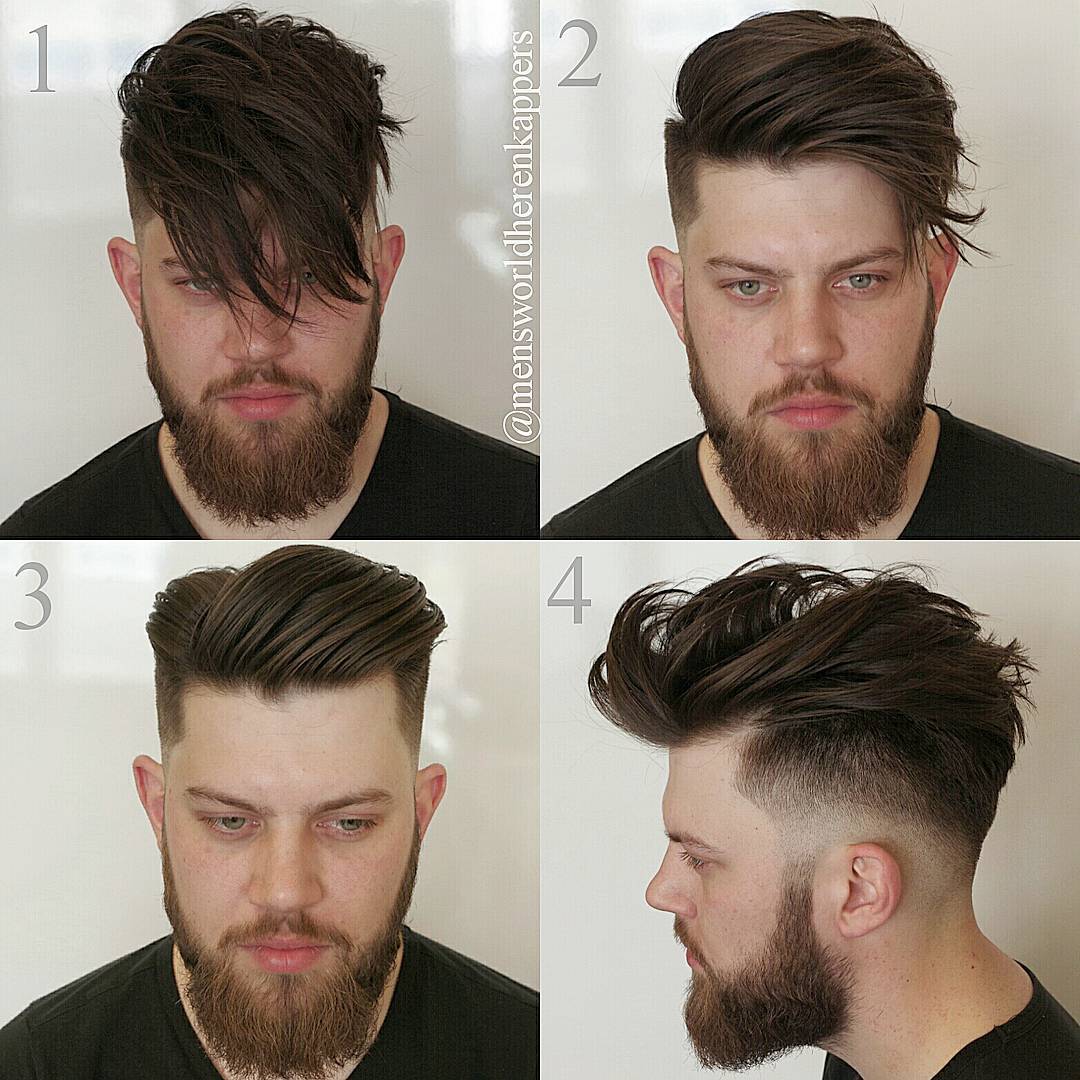 Longer hair means more styling options. With medium length hair, you can style the same cut in a number of different ways. In order from above, there are messy bangs, a textured combover, a high volume side part and messy textured spiky quiff.
Grab a medium hold product and experiment to create your own signature look.
10. How To Part Your Hair For Men
The part is a little detail that can make a big difference. While guys with medium and long hairstyles look great with a center part, a side part is universally flattering.
At a haircut, a barber or stylist will often move hair around to determine what direction hair grows in so the part works with hair. Try it yourself by pulling hair back with fingers and shifting hair to the left and then to the right to see which way hair wants to go.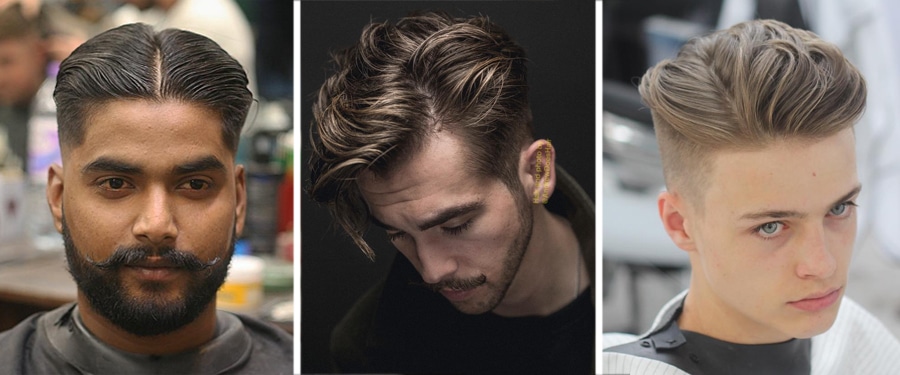 Hard Grind – Andrew Does Hair – Alan Beak
Another way to find which direction to part your hair in is to look at the whorl of hair at the back of the head. If the spiral grows clockwise, comb to the left, if it grows to counterclockwise, comb to the right. If you have two whorls, it's up to you.
However, after a lifetime of parting hair one way, hair gets used to sitting one direction. You can instantly boost volume by trying a side part in the other direction.
Other ways to mix up the part are use fingers instead of a comb for a messier look, move the part to the middle, closer to the middle, or further to one side. Some guys get an extra defined look with a shaved hard part.
11. How Often Should Men Wash Their Hair?
Not every day, that's for sure.
Many men shampoo hair everyday to eliminate oil. Shampooing strips the scalp of sebum, the oil produced by the sebaceous glands to protect and waterproof hair and your skin. A dry scalp tells the sebaceous glands to produce more oil, creating a vicious cycle.
To get the scalp to product less oil, start by shampooing every other day for 2-4 weeks. Then shampoo twice a week. There may an adjustment period but keep going. You can still shower everyday. Rinse hair with water and massage in a light conditioner like Baxter of California Daily Fortifying Conditioner to break up sweat and oil.
Just like you probably shower more in the hot summer months, you may end up shampooing more in the summer and less in the winter. Conditioner should be used at every shower though.
To freshen up on days you don't have time to shower, between shampoos or after a lunchtime workout, try using a dry shampoo to absorb oil. Just spray the powder into hair at the roots and work it in. This awesome product also adds flattering volume.
A quick word on dandruff shampoos. While they do eliminate itchy scalp and flakes, be sure to use according to the instructions. Usually these products are very drying and should never be used every day.
12. How To Add Volume To Men's Hair
A combination of styling tools and products can add volume to all types of men's hair, from fine to think.
There are a few products that lift hair at the roots and help create volume. These are dry shampoo, mousse and styling powder. Then hold that shape with a pomade.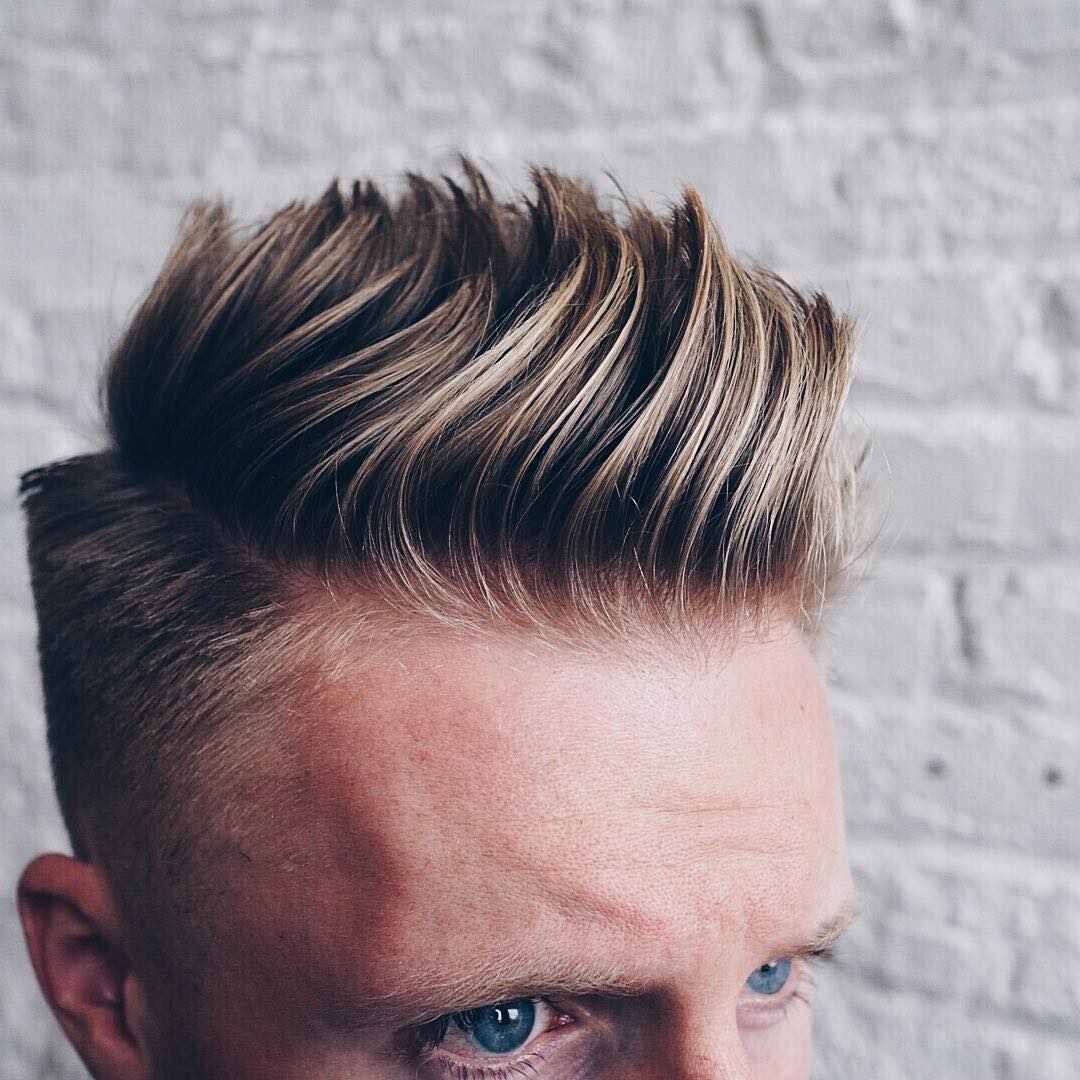 Dang Cuts Hair
However, achieving ultimate volume requires more than product alone. The best tool to create volume is a blow dryer. Just pull hair up and back with a brush or comb while blasting hair with air. When hair is dry, finish with a shot of cold hair to set the style. Last, work a dab of product. With a base of volume from the blow dryer, you'll only need a fraction of the usual amount.
13. How To Style Short Curly Hair For Men
If you want to enhance curls, check out how to style curly hair above. Here's how to control curls within a short haircut.
Curly hair tends to be dry and dry hair tends to frizz so the first step to your best hair is moisture. Skip the shampoo as much as possible and always finish off with a conditioner, ideally one made for curly hair. A leave-in conditioner like It's a Miracle Leave-In Product applied to damp hair after the shower works well and fights frizz.
Now apply a creamy product like Billy Jealousy Headlock Molding Cream to damp hair to hold and mold curls. It's as simple as that.
14. How To Comb Your Hair
Combing and brushing hair accomplishes more than smoothing and styling hair. Working bristles from roots to tips distributes the scalps oils onto hair from natural conditioning. It also massages the scalp to increase blood flow and exfoliate the skin. This is not just for guys with long hair. A daily brushing session makes for a healthy scalp and hair and can even help men experiencing hair loss.
Wet hair is delicate and susceptible to breakage so use a wide tooth comb or wet brush to detangle hair right out of the shower. When hair is damp or dry, use a comb or brush to guide hair while blow drying, define a part or style hair. First, comb hair to remove any tangles and then comb hair in the direction you want it to go.
15. How To Blow Dry Men's Hair
Blow drying hair is not mandatory but helps create high volume, fuller and straight hair styles. Heat sets hair into place for bigger styles that last longer and need only a touch of product. Now you want to blow dry your hair, here's how to do it:
Start with damp, not wet hair. Rub it with a towel or t-shirt to remove drips. Air dry for a few minutes if you like.
Spray hair with a heat protectant spray to prevent styling damage and frizz. Some of these products also add volume, help straighten hair or fight frizz but they all keep hair healthier. Best not to skip this step.
With a flat or round brush, shape hair into the desired hairstyle. To add volume to a pompadour that means up and back. To straight curl hair that means pulling hair out from the root with some tension.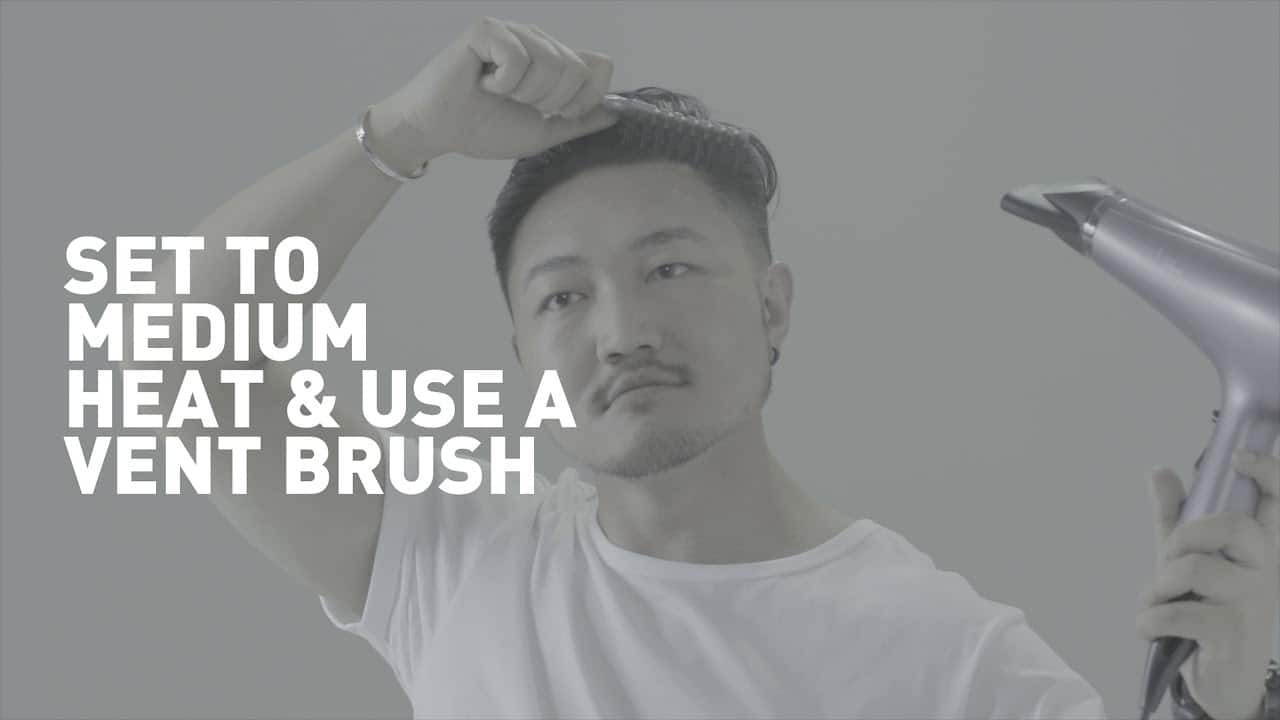 Follow the brush with the blow dryer. Use a low to medium heat setting and high air. Continue until hair is dry. This is important because hair that is left to air dry will do it's own thing.
Finish of with a blast at the cold setting to set the look.
Now you can add a touch of hair product for all day hold. For guys with extra thick hair or trying to straighten curly hair, a pre-styling product like a mousse, serum or salt spray added after the protectant spray and before blow drying can help get the look you want.
Blow drying for men is really easy and effective way to up your hair game. Watch your barber or a couple of videos for the technique but it really takes a bit of practice. There's no way to go wrong.
Make sure to look for a blow dryer with multiple heat and air settings as well as a cold button. If you will want to straighten out curly hair, you will want to have a diffuser attachment. Many models come with one.
16. How To Fade Men's Hair
Do not do this at home. A blurry fade takes expertise and a steady hand, not just a Youtube video. Go to a barber or stylist.
17. How To Get Soft Hair For Men
Healthy hair is soft hair. Similar to trying to grow hair faster, a healthy diet helps hair be its best.
Keeping hair moisturized is the second key. As we've said over and over again, that means shampooing as little as once or twice a week to preserve the scalps natural oils. Second, use a conditioner every day. If that's not enough, a weekly deep conditioning treatment or mask can help revive dry, damaged hair.
Towel drying can hurt and break hair. Hair is most fragile when it is wet. Rough drying with a rough towel can cause breakage. Instead, use an old t-shirt which has a tighter weave that break hair and be gentle while squeezing out excess moisture.
Of course, hair won't be soft when it is full of product so use as little as possible.
18. How To Dye Men's Hair
Follow this one tip for the easy and foolproof way to dye men's hair. Here it is – use semi-permanent dye. This type of hair dye washes out slowly over 4-8 weeks depending on the color and how often you shampoo hair. That means there will never be any visible roots that signal to the world that you dyed your hair.
All men's hair dyes are semi-permanent. Just pick the one with the best color match and application method for you. For gray hair, there is an option that covers some but not all grays for a discreet way to add more pepper to your salt.
If you can't find a men's color that works for you, there are more options for women's dyes and it is often cheaper per ounce. Just make sure to choose the semi-permanent formula.
19. How To Style Thin Hair Men
Whether hair is naturally thin or thinning, here's how to style hair for a thicker, fuller look.
Every great hairstyle starts with a great haircut. The best haircuts for thin hair tend to have short sides to focus hair on top.
Scalp oils can weight thin hair down so shampoo every other day and use a dry shampoo if necessary. This product also adds lift and volume that make hair look thicker.
Thin hair really benefits from some blow drying to add more volume. It only takes a minute or two. Always use a low or medium heat setting to protect hair from damage. Guide hair in the direction of your desired hairstyle with fingers, a brush or comb.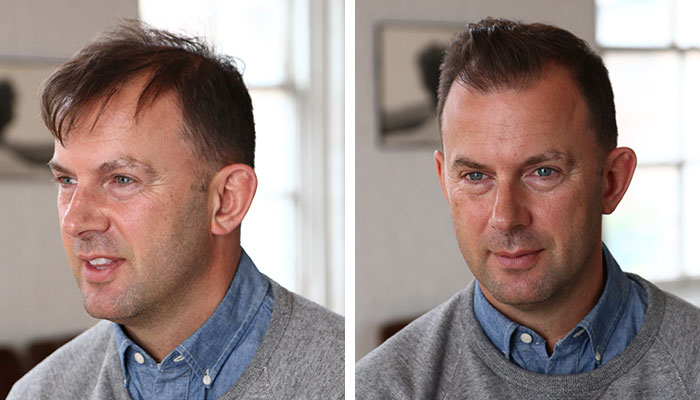 Birchbox
Now it's time for some product. Always use a matte product like a clay or paste. One good option is Blind Barber 90 Proof Pomade. Rub a dime size amount of product between hands to warm up and work through hair form roots to ends. Push hair into place with fingers or a comb and your are set.
20. How To Twist Black Men's Hair
The easiest way to create twists for men is with a curl sponge. There are a number of brands available. The size of the holes will determine the size of the twists so choose a smaller one for smaller, more dread-like twists or wider holes for larger twists.
Start by applying a conditioner to dry hair. Mane 'n Tail Conditioner can be used as a rinse-out or leave-in conditioner. Rub it in and leave it for about a minute. Now grab the curl sponge and apply part of it to the side of the head and start working it in circles. Don't change directions!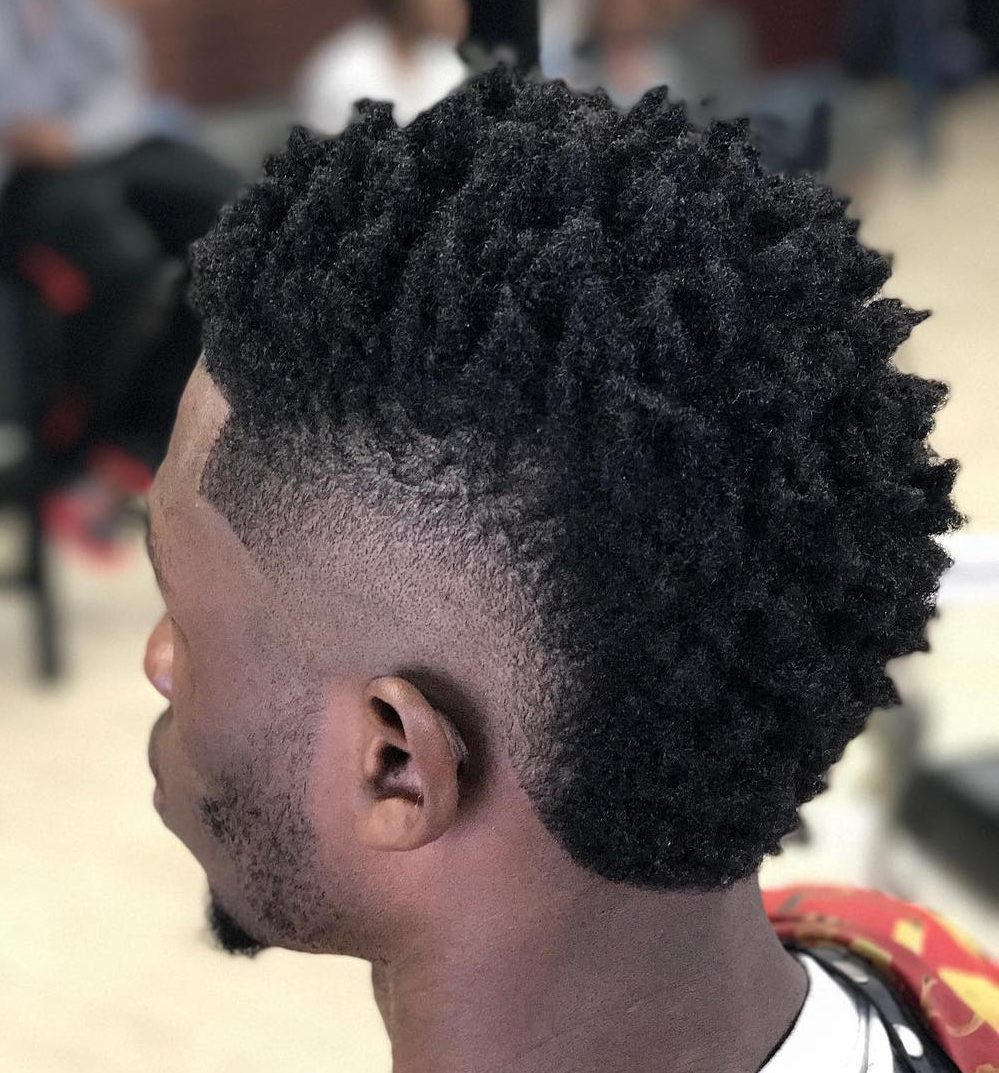 Jason Fiorentino
Just keep rubbing the sponge in circles all over the head until twists form. Keep going if you want to make dreads. f When you're done, you can leave hair as it is or work in a pomade like Murray's or Cantu Cream Pomade for extra hold. This is an easy to get a new look for natural hair.
21. How To Thin Men's Hair
Every time you ask how to cut hair at home, the answer will be to visit a barber or professional. No one is paying us to say that. This message come from experience. Bad experience. I had to get a buzz cut because I butchered my hair at home experience.
Don't damage thick hair by thinning it out at home. Try one of these haircuts for thick hair instead.
22. How To Braid Hair For Men
Whether it is the growing popularity of longer hairstyles or natural black hair, braids are a hot look for men.
When it comes to Viking braids or French plaits, this type of hairstyle can be learned at home. A regular braid is just three strands of hair crossed over itself. It takes some practice but can certainly be achieved by and for men.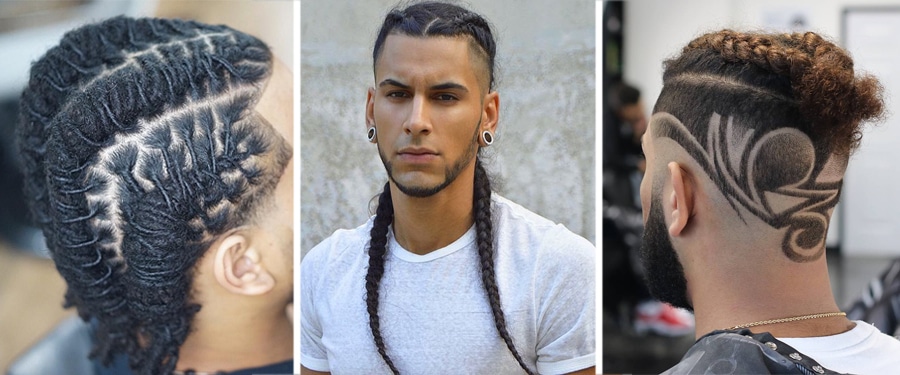 Art of Fades – Jon Rosario – Axel
Cornrows are another matter. These braids are best done by professionals who can ensure even braids that are tight enough to last.
As far as braiding short hair goes, you'll need at least a few inches to create any kind of braid.
23. How To Bleach Men's Hair At Home
Whether you want to look like Lucky Blue, Adam Levine or any famous soccer player, the best way to bleach hair is at a salon. Bleach is very hard on hair, even when done by professionals. If you want to try it at home, here's how to do it.
When going blonde, the ideal color is two shades lighter than your hair. Of course, many men want to go blonder or platinum. Bleaching hair at home can also be a base for metallic silver hair or rainbow bright merman hair.
Start with unwashed hair. The slight build-up of oils will help protect hair from styling damage.
Grab a bleach kit like L'Oréal Paris Féria Extra Bleach Blonde 205. It will contain everything you need – bleach, developer, gloves, cap and a brush plus a tinted conditioner to offset brassiness. Mix according to directions. How long to leave on hair depends on your original color and goal. Just keep checking on it until it reaches the desired color.
Once the bleach is done, we recommend using a deep conditioner to help restore some moisture.
Now is the most important step. Use a shampoo and conditioner designed for blonde hair like Clairol Shimmer LIghts. They contain blue or purple color that offsets yellow brassy tones of homebleached hair. This is especially important for platinum tones but will benefit all levels of bleach.
Source : www.menshairstyletrends.com